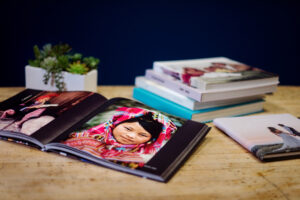 After all the hard work of organizing is complete and your images are digitized, the real fun begins. Photo Archivers can design timeless photo books and albums and complex family history or business history books. Your photos and stories can come together in beautiful ways, and it's one of the most rewarding projects for our clients. Photo Archivers listens to your objectives and takes note of your tastes so that we design a book that matches your style, not ours. Something timeless and beautiful.
We can even preserve the integrity of your original scrapbooks by repairing covers and replacing the pages with archival supplies. If you'd like to have multiple copies of your ancestors scrapbooks, we can recreate them digitally, keeping your family curation in place. It's the easiest way to create multiple copies. What better way to honor your ancestors and the work they put into their scrapbooks?
Once you have archival quality digital photos, the ideas for creativity are too long to list here. I'm surprised you're still reading as it is!
To learn more about Photo Organizing and Scanning click here.