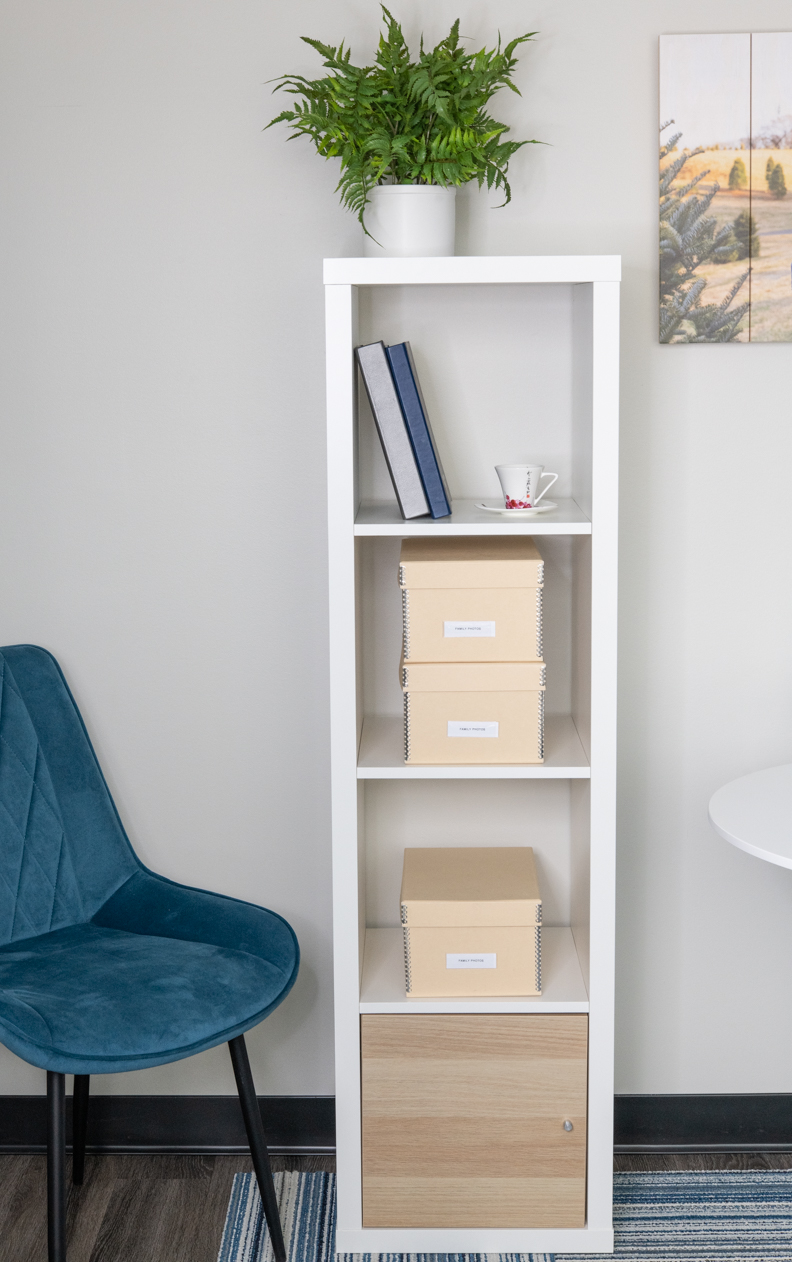 Preserving Legacies
After my father died and my mother's dementia took a turn for the worse, our family history became very scrambled. Amongst the many things we were trying to juggle on selling our family home to pay for my mother's care was a large, disorganized mess of photos from our family's history. As physical objects, they felt useless to us, since the time it would take us to wade into them would have been considerable. Still, we didn't want to just jettison so many years of family history. Rachel and ScrapMyPix saved us here. We brought them the disorganized mess, warts and all; slides, negatives, stacks of photos, framed photos, albums. Rachel is such an empathetic, understanding and talented person that she knew exactly how we should discuss the project and break it down into manageable chunks. They took their time with this which I greatly appreciated, not only because it let us spread out the expense over many months, but because I can clearly see the fruits of such careful labor in the end product. Not only did we get our entire photo collection digitized and the originals neatly and carefully packed into archival boxes, but the collection is digitally organized into hundreds of folders with substantive names that make browsing the collection a journey of delightful discovery into our family's history. She literally saved our family's heritage and legacy, and I'll be forever grateful for that. This is the type of small business that you want to forge a relationship with and support forever.
Gerard W
Worth every penny!
I can't believe its taken me this long to sing ScrapMyPix's praises since I see the results almost daily. Rachel and her crew did an amazing job when it came to digitizing close to a century's worth of pictures. After my parents passed in 2020 I was overwhelmed by the amount of slides and photos that were left. SMP took that stress off my hands and turned a major headache into a heartwarming piece of our past that I can readily enjoy. I'm actually gathering up all of my photos to take to her soon also. HIGHLY recommend!!
Carey F
Enhanced Photographs
Scrapmypix is my go to business when I want to have photographs enhanced. I have worked with Rachel on many occasions and have always been impressed with her creativity and the quality of her work.
I gave Rachel a photograph of my great grandmother taken in Krakow Poland about 1882 and asked her to bring out facial features that were not sharp. Rachel was able to enhance the facial features and also correct a problem with a darkened pupil of one eye. I used this enhanced image to have a monument photograph made and put on my great grandmother's new memorial. The photograph is beautiful.
Another project that Rachel worked on for me was to take a photograph taken in April1961 of me and my first girlfriend standing outside. One side on the photograph had been trimmed and carries in a wallet. Rachel was able to take background from the untrimmed side and add it to the trimmed side of the image. It is impossible to detect where the image was enhance. The photograph is beautiful.
Yet another task Rachel worked on for me was to take two photographs of my high school prom date and me taken in June 1961 in a small room cluttered with curtains and a radiator. Rachel was able to cut out these distracting features. She also added blue shading surrounding the images to match the color of my date's gown and the results are stunning. The images are so good I had Rachel make coffee cups with the two images added.
I very strongly recommend Rachel's business if you want to have special images creatively enhanced. In addition to doing excellent work Rachel is a very pleasant person to work with.
Charles S
Digitized my negatives
It was wonderful finding a company that would handle negatives and turn them into digital files! Making appointments was easy and their estimates were accurate. I was pleasantly surprised when I got a thumb drive neatly packaged and labelled along with my negatives back in their original sleeves. They are reasonably priced and I trust them with very old slides that I want converted to digital files. Rachel is very organized and a pleasure to meet.
Christine B
A Lifetime of Slides
The need to quarantine during the pandemic of 2020 gave us the time and opportunity to finally review and organize the many thousands of our slides. We discarded approximately 75% of those slides that were duplicative or not personalized, and organized the remainder. On our 60th anniversary we gave each of our children a flashdrive of the slides of them growing up. We also had a flashdrive made of some of our trips and family events. If we had not put our slides into such manageable form, our sons likely would not have spent the time and made the effort to do that so that they could enjoy these keepsakes in the future. We could not have done this without Rachel and Scrapmypix. She helped us organize this effort, and put this history of our family in a format which was much appreciated by our offspring and us. Rachel gave us exceptional customer service with a positive and pleasant attitude. We highly recommend her services.
Howard & Sue N
Memory Book of Pet
I can't say enough good things about Rachel! When a beloved cat passed away, and my husband's birthday was a month away, I decided to make a memory book about our cat as a birthday gift. Rachel helped me every step of the way. I knew nothing about organizing digital photos or making a photo book, and she taught me how to find and organize my digital photos, how to download CDs of older photos, how to use Mac "Photos" (especially the export and import function), how to select photos for the book, and, when I was finally ready with my selected photos, how to use an online photo book company to design the book. Her services also included editing my photos so they looked better, and reviewing the photo book to fix my errors and add some absolutely fabulous finishing touches! Through the entire process, I felt as if I were her only customer; she was never impatient and was very available and accommodating, even with my short timeline. She was simply wonderful! I recommend her highly and will definitely be contacting her again for help in organizing my large, decades-old hard copy and digital collection of photos.
Sherry C
Retirement Memories..
My Boss was retiring and we wanted to give her a gift which she would remember each one of us by.
I used Rachel's services to help put a photo memory book together and she did a fantastic job. She understood exactly what we wanted and put together a very beautiful arrangement of photos. Rachel is very thoughtful, thorough, organized, creative and very professional in her work. She did a fabulous job, the materials used were of high quality, that everyone was impressed with the layout of the book. The recipient was in awe and was pleasantly surprised when we presented the book to her. I highly recommend Rachel to anyone looking to make a memory book.
Hanna W.
My Grandma's photos
ScrapMyPix is the best. Rachel Jenkins runs a tight ship. The work is great, and is done in a timely fashion at a reasonable price.
She helped me think about how best to organize and preserve my grandma's photos, and not only that, we were working on behalf of my dad, which added another layer of complication, and she was always understanding and accommodating.
And the result is stunning! My dad and I love the photo albums (my grandma is deceased) and are looking forward to showing them to the rest of our family.
Randy W
Grandfather's 100th Birthday Party
Rachel helped me take multiple old photo albums, and digitize the images so they could be shown as a slideshow at my grandfather's 100th birthday party. The images spanned almost a century, and the original copies are very special to my family. Rachel took great care of them, even going above and beyond to protect some images from damage due to their aging album sleeves.
I would recommend Rachel and ScrapMyPix to anyone in need of the services they offer. I was more than happy with the finished product, and will certainly be giving them a call next time I need anything!
John A
Family Scans!
Your blessed boxes have found a safe home in a climate-controlled (sort of) closet here.  Your office must feel empty; all those voices you've immortalized now in a different ZIP code! I can't wait to share your work with the "children" – and it will be soon as they will all be here this weekend, as you know.   You did a fabulous job; of course I haven't had time to plumb all the layers you've arranged but it will be an education and a joy.  Thank you.
Molly E
Scanning Family Photos
Rachel just completed a tricky scanning job for me…she's a pleasure to work with and knows her stuff! I'm a graphic designer by profession and was impressed by her expertise and the quality of her work. The turnaround was great, and the finished product is excellent. I'm so happy to have found someone local to do this kind of work for me!
Mim D
Graduation Video
I had the best experience, Rachel was professional, artistic, and kind. My work was done & ready in a timely manner. I will use her services again & refer her to others.
Jackie C
Family Photo Album
It is just beautiful, thank you so much.  I am looking forward to giving a book to each brother over the summer.  I'm am so enjoying looking at it all together, each photo I knew but now that it is organized it tell a story.  I'll let you know how the brothers like it.
Teresa M
Cookbook Project
Rachel has helped me in so many ways. Whether organizing, digitizing, and preserving family photos or assisting in publishing my Mother's cookbook, Rachel will finish each project professionally. She personalizes her services to assure customer satisfaction. I highly recommend ScrapMyPix!. Thank you, Rachel!
Ann G
Capturing memories
For each of the four first years of our twins lives Rachel has helped us to create scrapbooks that memorialize the highlights. I say she "helps" really meaning I snap the pics on my iPhone throughout the year and she does the rest – selecting the good ones and organizing them into a beautiful way onto the pages. Each year we order copies not only for ourselves but the grandparents as well – they love them. Thank you Rachel!
Steve
Steve A
Baby 1-Year Album
Rachel created both of my children's first 1-Year baby albums from photos I collected. The albums were extremely beautiful, organized and exactly what I imagined. The process was professional and easy. Highly recommend!
Jennifer R.
Rachel has created several…
Rachel has created several photo albums – capturing our most precious memories over the past several years. Rachel's albums tell a story – pictures annotated with meaningful text – surrounded by beautiful colors – each creatively and uniquely designed. The final albums are always of top notch quality – all of which are proudly displayed on our coffee table. Rachel is the absolute best!
Barry R.
Great orientation…
Great orientation session… Excited to work with Rachel.
Debra F.
Rachel scanned my photos…
Rachel scanned my photos so that I could use them in a photo book project. She uploaded them to Dropbox, so that I could use them right away. She showed me examples of her very professional projects. She's personable, professional, timely and helpful. Great experience.
Cathie T.
Due to our project…
Due to our project with you…I was forced to review my/our entire life in photos while overlapping with the complex change and goodbyes in our lives with our move. At times the emotions were overwhelming and yet as I continued with both ventures…there was an amazing satisfaction and familiarity with my task. I thank you for your kind-gentle support and encouragement as I believe I/we would never have attempted going thru our myriad of photos with anyone else. It was your unique personality that guided me and gave me the courage to plunder onward.
I have no regrets…only gratitude to my sweet Mim for recommending you and to you for our brief and intimate connection.
Once I get settled and begin my new life I will revisit some of my goals with our photos…but I could not leave without thanking you!
Kim W.
When I found out…
When I found out I was expecting my first child, the responsibility of properly preserving old family photos suddenly felt even more urgent—and daunting! I was adamant about not wanting to mail or hand over my photos to some random scanning service when a professional organizer recommended Rachel as a great local resource.
When Rachel came to my home she efficiently set about unearthing the many boxes of photos throughout the house and setting up a workspace. She then very patiently guided me through the process of deciding how I wanted to organize my photos. I really appreciated how she treated my not-so-well-kept memorabilia as if it were her own. After our sorting session, she expertly scanned my collection into searchable electronic files. I can now access any image or series of photos in minutes! I am so relieved to have tackled this project. Rachel was fun, professional and very good at keeping me focused. I recommend her service to anyone faced with sorting through and preserving decades, generations, or even simply baby's first year. Now that everything is organized, I can finally get around to printing and displaying some of my favorite photos and I know Rachel has a lot of creative ideas for that as well!
Mary T.
I purchased Rachel's services…
I purchased Rachel's services as an anniversary gift for my parents. A lifetime of photos were stuffed in half a dozen boxes and Rachel helped us organize them all. This was no small feat as Rachel had to convince my mom to part with many duplicates–something she does not do easily! We purged nearly half and filed the rest in a system that allows us to easily find a photo from any year. Rachel's services were invaluable and the neatly filed photos would not be possible without her help. Her enthusiasm and easy-going personality made what could have been a frustrating task enjoyable. I plan to use family photos at my upcoming wedding reception and am so relieved that 25 years worth of photos are at my fingertips.
Meredith L.
Very professional…
Very professional and an asset to any organization.
Ann T.
She is organized…
She is organized, personable, and patient. I refer people to her all the time.
Sheila Z.
Some time ago…
Some time ago my wife and I took a trip to Province and, naturally, we had taken a lot of snapshots. Although our pictures were stored in a pocket-type scrapbook, we wanted something more enduring. I noted a "ScrapMyPix" advertisement and gave Rachel Jenkins a call. It didn't take long before she had beautifully copied each photo onto a CD, so that we could view them easily on our computer. That wasn't all. We were translating a WWII memoir that was first published in Polish in 1948. Our publisher required high-quality copies of illustrations from the original book, and Rachel did the job. We couldn't have been more pleased. The memoir, "Shavelings in Death Camps" by Fr. Henryk Maria Malak, will be published by McFarland this fall, and you can be sure we've thanked Rachel in our Preface.
Tom Tucker