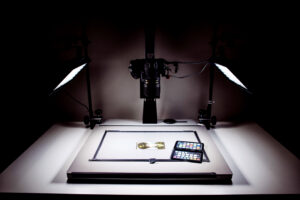 You're not alone if you have discovered boxes of photos and negatives or carousels of slides tucked away in a closet or basement. Or maybe you've inherited your parents collection who inherited from their parents. Now that you've found them, it's time to create a plan to protect them. Let's blow off the dust and turn these amazing fragments of your history into something easy-to-access, searchable and shareable.
Camera Scanning – it's just one of the things that make us different from many of the other scanning companies out there. We do not use any auto-feed scanners here in our shop so even the most fragile  photos & documents are safe. We've even digitized civil war letters here! We use professional, high-resolution cameras and lighting to get the best results. It's a process known as camera scanning and the photo above is what a typical set up looks like here in our shop. We have found that camera scanning provides us the most control and superior quality for "scanned" images. You might use the word "scan", we often use the word "digitized." Mostly, because we're not using scanners.
Secondly, the Photo Archivers team does all the digitizing of your family photos, slides, negatives and documents right in our shop. Rest assured they will be in good hands, and they are not leaving our shop. If we have something that's not in our wheelhouse that requires outside help, we would always have that conversation with you first.
If your photos, negatives and slides come to us with organization in place, we'll use that structure to name your files and retain your order. If there's not a structure in place, we can establish one. Our goal is to hand back your collection better stored and more organized than when you delivered them to us. If you choose, we'll rehouse your collection in archival storage boxes. Traditionally, archival storage boxes combined with organization will take up less space. So if you're downsizing, you'll be very happy with the results.
Digitizing slides is one of our favorite projects here at Photo Archivers. Often times families have not seen these old slides in decades. Using technology and digitization best practices, we can convert slides to digital so that you can view them with ease. You won't need the projector and the white refrigerator door to view them anymore! That's what we used to do.
With our specialized techniques and high-resolution results.  If you're concerned about having images scanned at the correct "dpi" or "ppi." You don't need to worry about that with our results. You will easily be able to share, print and enlarge your favorites. You're images will be archival quality and be available for many generations to come. We can even create a family website with your new digital photos. It's a great solution for the generation of children that are keeping their possessions slim and digital.
Photos  •  Negatives  •  Slides  •  Videos  •  Audio  •  Children's Artwork  •  Scrapbook Albums •  Family Letters • Memorabilia • Documents
Video Conversion & Film Capture – If you've got photos, you've also likely got some video cassettes and film stashed in some boxes somewhere or in the cabinet drawer under your TV. While we've always helped our clients manage these items, we've recently started doing this work in our shop. If you'd like to convert your old video cassettes to a format that you can share and access easily without the old equipment that's been collecting dust, we can help you get that done. Below are the formats of video that we convert to digital.
VHS • VHS-D • Mini DV • DVCAM • Digital8 • Hi8 • Video8 • DVDs • Film Reels