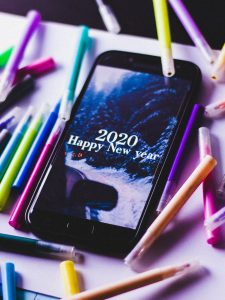 Happy New Year everyone! I can't believe it's 2020! It really snuck up on me. Unbelievable changes will occur this decade. My boys will learn to drive (don't tell Paul, he's in denial on that one), they will graduate from high school, they'll take their first steps into adulting. How did this happen?
Enough on the scary. Cheers to 2020 being your best year yet and best wishes to LAUNCHING yourself into the next decade with confidence and excitement. I've been thinking about the things that help me stay focused on my intentions for the year, and I thought I'd share them with you. They're pretty self explanatory but exploring this topic really helped me put it all into perspective.
1. Be realistic with your goals but add a little stretch. Set yourself up to succeed. You're in charge of your own destiny!
2. Invite a friend to join you. Having someone along for the ride makes it more fun and interesting and it has built-in accountability.
3. Is your goal something you really want to accomplish or something you think you should be doing? If it's the later, stop "shoulding" on yourself. I love that phrase, it makes me giggle. Find what sparks your passion and spend your precious time there.
4. Ask for help. This is probably the hardest one for me. It's more fun with someone you like and trust. There's no need to go it alone. Collaboration is king (or queen)! You'll be more efficient when you stay in your lane and let someone else drive their lane. You might even have more fun…
5. Write it down and share your goals with someone you trust. There's that accountability word again.
6. Course-correct as needed. It's ok to make a change if that's what makes sense.
So there you go. Those are my words of wisdom. I hope you found some inspiration for your journey into this next decade. I am off to some Launching myself but more on that later.