We all have a moment or 2 when we wish we could go back and get a redo. Ok, some of us have more than one or 2. Time escapes us and one day bleeds into another, and it can't be more glaring than during this last year. Many folks took the opportunity to dig their photos out of the closet and attempt to make some sense of them. Were you one of them? If so, you took a really difficult first step and that task is likely something you've been procrastinating for years. I bet you found some gems in there. Photos you thought were forever missing, people who are not on this planet any longer, people you'd like to reconnect with once Covid releases its ugly grip. So I challenge you to take the next step and pull a few of those photos – pick just a couple and zoom a family member in the photo. If you're lucky enough to be fully vaccinated, you could even schedules some in-person time. This is how amazing conversations start and how you can carry the stories of the past into the future. Keep them going. It's up to you to initiate because all too often the seniors in our lives, don't think their stories are worth sharing. I don't want to disrespect my elders here, but they could not be more wrong.
In 2011, my dad passed away and as we were cleaning his office in the basement, we found negatives from my dad's time in Korea. He never really talked about his time there, and I never really asked much about it. I don't believe it was a traumatic experience for him although, I'd guess it was certainly nothing like he had ever experienced before. He was young and I'd bet he hadn't spent much time outside of central Pennsylvania before being deployed.  Did he think that those stories would not be that interesting to us? I wish I had asked him more about that time, so I could pass those stories onto my kids.
Several years later as we were preparing the shop for the sale of his carpentry tools, we found some
pictures of my great Uncle Shuman. He had owned and worked in the shop prior to my dad purchasing the building. I have no idea the purpose of the photos of my uncle, but they appear to have been taken by someone with some pretty good photography skills. It shows him happy in his shop and doing his "thing." At that moment, my heart sank and I realized that I didn't have any pictures of my dad working in his shop. I had some great photos of him with my boys but nothing where it was just him in his zone. Why hadn't I taken some portraits of Dad? So get out there and grab a few snaps of the people you love doing the things they love – but not too many.
While I don't have pictures of dad doing what he loved, he did leave me with the legacy of being an entrepreneur and doing what I love for a living.  For that I will be forever grateful and sometimes annoyed. LOL. I also have his work table that I restored in our garage. It came with many layers of dust, dirt and wood glue, but it's now a centerpiece in my shop. The table itself has a story and the only way that I discovered that was by sending a picture of the refinished table to my cousin who as luck would have it was in the car with my dad's brother, Uncle Joe. Uncle Joe proceeded to tell me that the table was built by Uncle Shuman from a reclaimed bowling alley flooring, which was not unknown. But what he told me next was a surprise. He believed the table legs had been carved by my dad in a wood carving/template class he took at the local trade school. I would have never known that had I not sent that picture to my cousin. That same table now serves our clients while we prepare their legacy photo collections. It's pretty appropriate.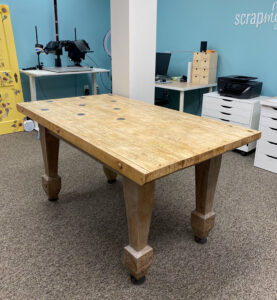 All this to say, start the conversations, reconnect in a different way and let those special photos be the start of something meaningful. Do it before it's too late.